Hey there everyone and welcome to my little spot in the crafty universe. Today is a fantastic day filled with Halloween and Fall inspired projects from your
Helmar
Design Team. If you have been following along the hop, you should have hopped here from
Tracy's Awesome blog
. Talk about freakin scary talent!!! If you haven't been hopping with us today, go on back to the
Helmar Blog
and start from the top. There are so many amazing projects, and I don't want you to miss a thing (including a HUGE
Helmar
blog candy giveaway)
I've got a few projects to share with you today using my favorite
Helmar products
. The first project is a Halloween Banner that features
Heaven in a Tube
AKA
Helmar Liquid Scrap Dots
. Many of you that do stop by here or the
Helmar blog
, know how much I love this stuff. I can't make a project without it!!!
I've used two great Halloween paper lines. One from
Cosmo Cricket
and the other from
Nikki Sivils
. Love how they work together. The banner itself is from
Nikki Sivils
too. It is called the
Tag Chipboard album
and is perfect for banners.
Ain't that beyond sweet. Those little ghosts just pop right up with the help of
Heaven in a Tube
. I love the little bit of crepe paper to make the letters stand out.
Just a little Stickles for some sparkle and some oozing drips...
Look at all of those layers!!! Using
Liquid Scrap Dots
gives any project the dimension you need.
Now for my second favorite product, I just had to make a statement with glitter. Any of you that know me, know that I'm part magpie.
Gemstone Glue
is such an amazing
adhesive
to work with and I love love LOVE how it can be painted onto a project to really define things. I used a small bristled paintbrush to apply
Gemstone Glue
to each separate area of the project. Adding
PK Glitz
glitter, then starting on the next area. What did I create you ask??? My Fall ballgown. Now to find a place to wear it around these parts lmao.
All of those little rhinestones are also attached to the dress form using
Gemstone Glue
. This stuff is beautiful and dries perfectly for things like gems, glitter, mirrors, and glass. Not to mention beads, and metal and fabric and and and. Maybe I should start calling it
Heaven in a Bottle
.... hmmmm
Really Reasonable Ribbon
, where you can also buy some
Helmar products
.
Whatcha think? Have you gotten that crafty mojo for Autumn and Halloween projects pumpin!?! Well there is more I tell ya. Before you head on over to
Laura's Blog
, make sure to leave some love here. Every blog needs a little love, and when you do that, you may just win the GRAND HOP PRIZE!!! And I might just have hidden candy too.
Now click the button below to go and check out what
Laura
has created. You won't be disappointed. Thanks for stopping by today.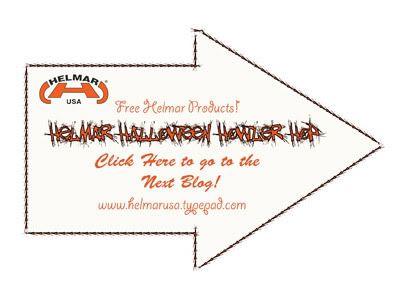 Toodles